December 2023 - Decorations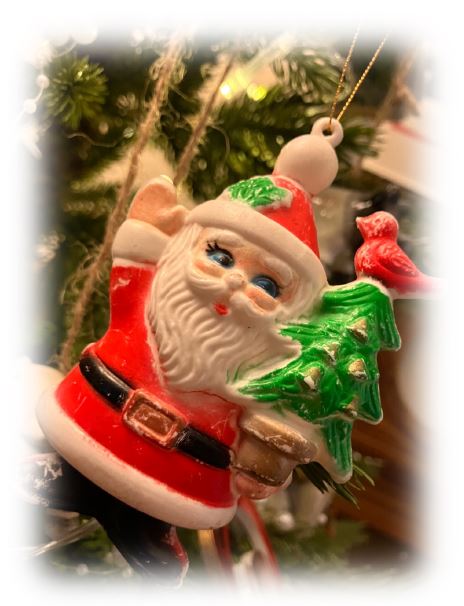 Every Christmas I get VERY excited about 2 bits of 1970's plastic that have somehow survived the test of time, survived changes in bauble and decoration style, and made it through numerous clear-outs over the years.

A blue-eyed Father Christmas and a blonde-haired angel, in praying mode no less!

These are just two of the treasures that I have kept from childhood. They remind me of Christmases past, the people I shared the season with, the fun that we had, the stories we shared.

They also remind me, what will be old, word and out dated for some, is vintage and magical to others!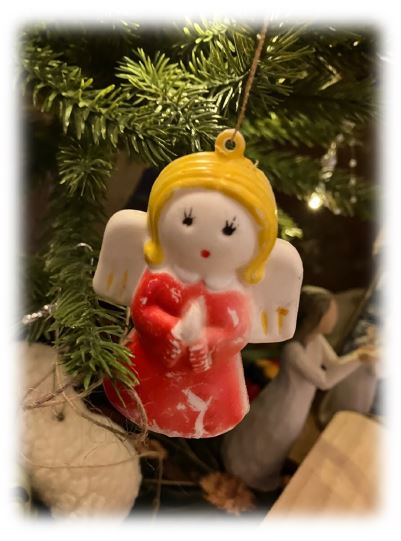 This Advent and Christmas may
you treasure and ponder the
right things in your heart. And
may you hold on to the old
vintage things that open up
treasured memories to remind
you of days past - and your
Friends in Light cheering you
on.
I have been asked about these items of beauty! They do take pride of place in an already over-stocked tree full of oddments 😊
My stock answer is, "I treasure them".

Have you a particular ornament or decoration that you treasure? Why is it so special? Was it a gift? Does it represent a special time or place or person?

Luke's Gospel records:
"But Mary treasured up all these things and pondered them in her heart" (2:19).

Mary heard the story and responded to it by:

TREASURING UP & PONDERING - IN HER HEART
How will you respond?
---
---
Previous Monthly Devotions
6 - The Unknown Soldier - Then and Now (November 2023)
5 - Conkers and Spiders (October 2023)
4 - The Parable of the Accidental Sunflower (September 2023)
2 - We're all going on a Summer Holiday - Rock Pools (July 2023)
1 - The Lost Horse (June 2023)
---